Hello, welcome to my poetry home!
I'm a Nottingham, UK based poet originally from Guildford.
My first collection, The Prettyboys of Gangster Town, is available to buy here and through Fly on the Wall Poetry. It's had some wonderful reviews so far, book blogger Dane Cobain even said it was probably his favourite collection of the year!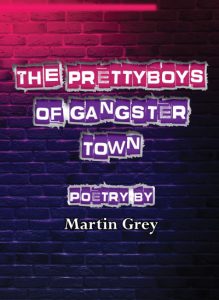 I'm also a director of World Jam, a nonprofit for connecting communities through poetry and music, and a zine editor, event organiser and compere for DIY Poets, a Nottingham based spoken word collective.
I have performed extensively around the Midlands and as far afield as Berlin, Glastonbury and Edinburgh Fringe, including the BBC Edinburgh Fringe Slam and co-running the Edinburgh show "A DIY Poetry Fix" in 2019. I won the 2018 Southwell Folk Festival Slam and have supported several nationally renowned poets, including Jess Green and Dominic Berry.
I have an unending love for poetry and spoken word nights in general. I wouldn't be a poet without the support of the poets and poetry fans around me, and it's great to be part of organisations that nurture and develop the local scene. I often wonder if people keep mistaking me for the poet they actually wanted and are too polite to tell me, but I plan to keep going until I'm rumbled.

Feel free to have a nose around and get in touch 🙂
Martin.